---
In 2005 City of Sails became the first NZ mens' chorus to compete at the international competitions, held that year in Salt Lake City, Utah. We were "between directors" at that point, and competed under the very capable direction of Jill Rogers (now director of Might River Harmony Chorus). City of Sails scored 75.7 %, at that time the highest score for a NZ chorus in any competition. We placed 22nd on the world, beating two US choruses.

LDS Conference Centre Interior

The competition was held in the LDS Conference Centre, in the room pictured below that seats 21,000 people (you could fit the entire town of Levin in here!). It is one of the largest indoor spaces in the world. The "room" has no pillars - every seat in the house has a view of the stage.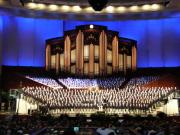 Mormon Tabernacle Choir


A highlight of the trip to Salt Lake City was the opportunity to sing with the Mormon Tabernacle Choir. In a rare departure from tradition, the choir invited gold medal winners from the barbershop fraternity to take part in the weekly Music and the Spoken Word live television broadcast - the longest continuously running live broadcast in the world. The combined choir comprised 300 from the Mormon Tabernacle Choir, and 600 barbershoppers from all parts of the world, including several from the NZ contingent.